Optimization of evz.ro ('Evenimentul Zilei' on-line) for the traffic spikes generated by the elections of 2009 in Romania
Client: Publishing house Evenimentul and Capital
Yes: 2009
Description and solution:
3 months before the elections of 2009 it was forecasted that the traffic generated by the on-line issue of the daily newspaper Evenimentul Zilei will double to a significant traffic spike in the final round day. In the technical support agreement already available various changes were planned and implemented to increase the traffic absorption power. Therefore:
a) the database was relocated to a new server (in Distinct Datacenter) and the connection to the original datacenter was optimized
b) the capacity was raised at the web accelerators level
c) the related web services were relocated to other servers (the process also included the transition from physical machines to virtual machines)
An optimization and programming security agreement was executed additionally (cache headers, internal cache engine, reduction of SQL queries, authenticated users differentiation, etc)
In the election weekends the support output was improved due to the non-stop presence of a Distinct engineer ready for service.
The success of this project was measured by the obtainment of 99.803% application uptime (meaning only 170 seconds of 24h the website responded in more than 3s) in the day of the last round of elections.
Google Analytics data:
| Date | Visits | Impressions |
| --- | --- | --- |
| December 6th, 2009 (Sunday) | 341,689 | 827,945 |
| December 7th, 2009 (Monday) | 701,329 | 1,774,991 |
The website evz.ro was the most steady news source about elections of the that day according to the impartial monitoring conducted by Distinct via publicmon.distinct.ro (see the methodology)
References: Dragos Dionisie, Bogdan Iacob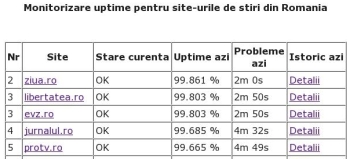 enlarged image
Other
case studies
:
See more: