Distinct in Marketwatch Datacenter 2012
01.11.2012
Togheter with the presentation chart of the Distinct datacenter , Distinct message is about managed Services and SLA.
"We know that for a client it's very important that he loses money when an aplication doesn't work.
More then 75 % of the interuption in functioning aren't caused by downtime on the Datacenter infrastructure but by planing and mentaining of the software elements.
This is why we offer Datacenter si Managed Services integrated packages with unic SLA that ensures complete protection"
Note:
Add is in romanian only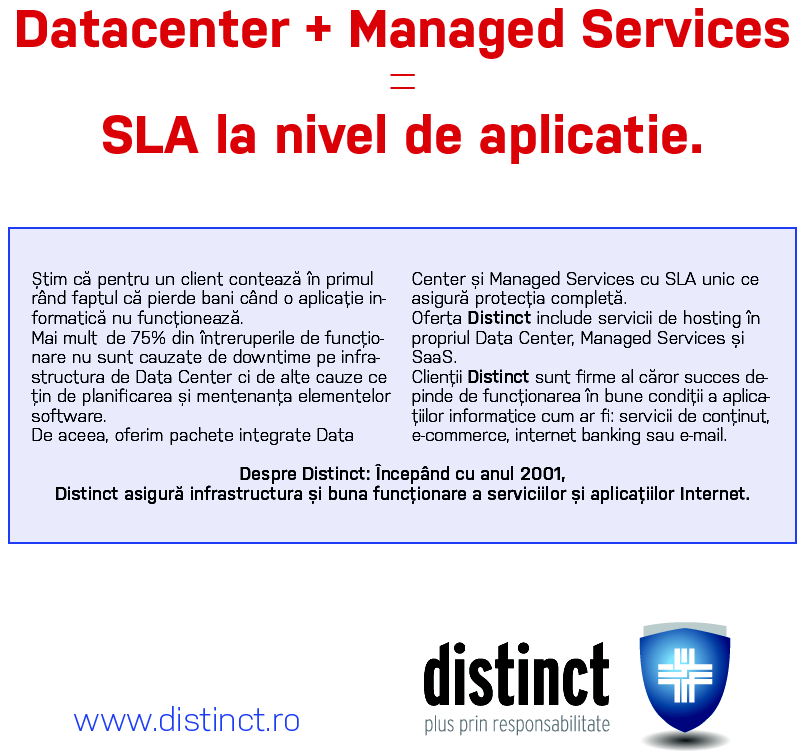 "More than 6500 downloads of the 2011 edition PDF (from MarketWatch website) motivated our action and, moreover, shattered any doubt on the high interest in the local Data Center market. I am sure that, with the help of our 17 relevant suppliers, we will manage to provide continuity to a unique and pertinent information source with the 2012 edition to any Company searching for Data Center services" (Gabriel Vasile, Editor)
Links: